I noticed her curly reddish hair first. A flash of red from another aisle just beyond my peripheral view, but it was enough to make me suddenly stop right in the middle of the dollar aisle.
Was that who I think it was? I clutched the cart I was pushing a little tighter. I hesitated, not sure where to go, resisting the urge to duck down beside the glow bracelets and plastic miniature ice trays in front of me. We had not talked in a year…or was it two? The amount of time didn't matter—just thinking about her had instantly brought back old feelings of hurt and resentment. I had no desire for a spontaneous reunion! Leaving my empty cart, I headed for the exit and the safety of my car. I could come back later…
Have you been there?
You're in an argument that ends in the silent treatment and eventually the end of a friendship.
Your feelings get hurt by something someone does—and though you tell yourself it's not a big deal, you still can't see that person without getting upset.
When we think about forgiveness, we sometimes assume it is only for the Big Hurts: betrayal, abuse, or choices that negatively impact your life. But learning to acknowledge and forgive the Small Hurts is just as important—because Small Hurts can add up to big ones if we let them.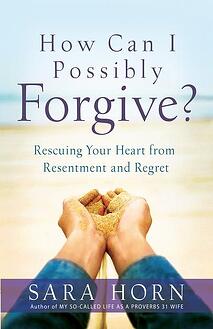 Consider this:
God makes it pretty clear in His Word that we're to forgive…whatever has hurt us. "Therefore, God's chosen ones, holy and loved, put on heartfelt compassion, kindness, humility, gentleness, and patience, accepting one another and forgiving one another if anyone has a complaint against another. Just as the Lord has forgiven you, so you must also forgive" (Colossians 3:12-13).
Complaints, offenses, frustrations—the next time you experience one of these, keep in mind the following myths and truths about forgiving others and how to let go.
Myth: Forgiveness Is Optional
The Truth: God expects us to forgive others.
When we hold onto resentment and bitterness, whether for the smallest slight or heaviest hurt, we build emotional walls that impact everything, including our relationship with the Lord. God asks us to forgive others because when we do, we keep our hearts open and vulnerable to Him. We experience what He does for us—giving grace that's undeserved.
Myth: Forgiveness Requires an Apology
The Truth: You can still do what's right even when someone else refuses.
Forgiveness is a choice to let something go. We choose not to hold something against someone else, but we can also refuse to dwell on the wrong. The person who hurt you may never accept or admit responsibility, but you can let go of that hurt to make room for God's love and healing. God's influence on you is worth far more than any negative influence from the actions of someone else.
Myth: Forgiveness Requires Reconciliation
The Truth: Not every act of forgiveness means a relationship will continue.
Sometimes we think that in order for forgiveness to happen, a friendship or relationship has to "feel" or resemble the way it did before a conflict occurred. But just like forgiveness is a process, so are the steps it sometimes takes for a relationship to be fully restored. Not everyone wants to take those steps. Be willing to leave that relationship to God. Forgive, but don't force a friendship. Sometimes God shuts doors for our own protection. When those doors close, trust that it's for a very good reason.
After ducking out of the store that day, I knew I had to take the matter to God. I sat in my car, praying about my resentful heart, and asking God for the wisdom to know what I should do. Later that day, I made a phone call to that friend and apologized for my attitude. Though we never restored what had been, we were both able to forgive and move forward.
When we're willing to forgive and let go of resentment and bitterness, we make room for God to bring new blessings and relationships to our hearts and lives.
Sara Horn is a wife and mom and the founder of Wives of Faith, a ministry for military wives. She's written numerous articles and books, including My So-Called Life as a Proverbs 31 Wife and My So-Called Life as a Submissive Wife. She's devoted to her husband, who serves in the US Navy Reserves, crazy about her son, and passionate about her ministry to women. Her most recent book, How Can I Possibly Forgive? Rescuing Your Heart from Resentment and Regret, just released in October. Visit her website at sarahorn.com and take the Forgiver or Resenter quiz to discover if you are practicing habits of forgiveness.
Learn more about showing honesty, grace, love, and kindness to yourself and others in Cheri Gregory's post, How to Get Rid of Fear and Kick It to the Curb.