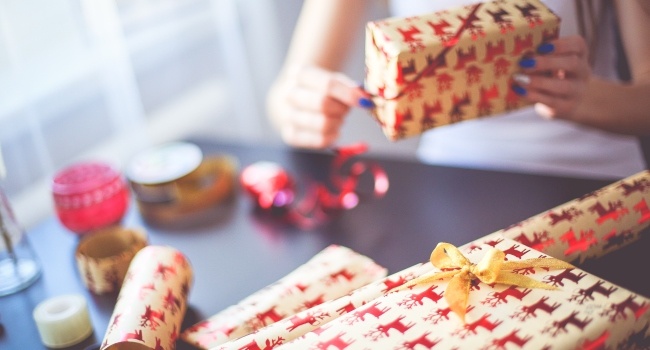 Whether you are filled with magical wonder or dread, one thing is for certain:
Ready or not, Christmas is going to happen.
So it's time to dig through your basement, garage, spare closet, or under the bed and gather together:
- Wrapping paper
- Ribbon
- Tissue paper
- Tags
- Scotch tape
- Scissors
- Gift bags and boxes
Get all this stuff in one place so that when you have to go into elf mode, you're not running all over the house. This would also be the time to purchase anything that you are short on.
Make It a Clutter-Free Christmas
I would love for you to have an "away space" so your wrapping supplies are not on the living room table for the entire month of December. Is there a place in your coat closet, a drawer in your dining room, or a shelf in your utility closet that is still within reach, but isn't in the middle of all the action in your house? That would be the perfect place to stash your stuff.
For all the little things that I need to keep together (scissors, tape, tags), I use a cleaning caddy that can be easily moved. Having everything together makes wrapping easy and keeps me from putting it off.
Kathi's Easy Gift-Wrapping Ideas
- Use it up. Instead of opening a brand-new roll of paper, use up all the leftover rolls you have. That way there is less to store.
- Use what you have. If you have some small branches left over from the tree you pruned, why not tie some small twigs onto your gifts? Or do you have some small ornaments that you aren't going to use on your tree? Tie them onto a gift, or write on them with a Sharpie to make a festive gift tag.
- Make photo tags. Have a photo of Fido you just adore? Make copies and tie them onto your gifts as fun gift tags.
- Use fabric, ribbons, and buttons. These are a few of my favorite things—to decorate packages with. Use up your leftovers from that craft project that didn't turn out right. Raid the jar of buttons you've been keeping in your laundry room.
- Use game pieces. Spell out the recipient's name with Scrabble letters attached with double-sided tape, use playing cards as gift tags, or create permanent gift tags with poker chips and Sharpie markers.
- Wrap a map. Use an old map to wrap a gift for the travel enthusiast in your life.
I think having an organized Christmas is important. But what I really want for you is to have a Christmas that is clutter-free. Free of emotional, physical, and relational clutter.
If we can go into the holidays being intentional about how we spend our time and our physical and emotional energy, it truly will be the key to a more sane and sacred celebration.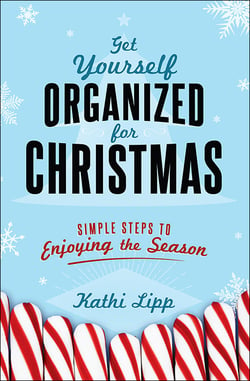 Find more tips for enjoying a clutter-free holiday season in Get Yourself Organized for Christmas!