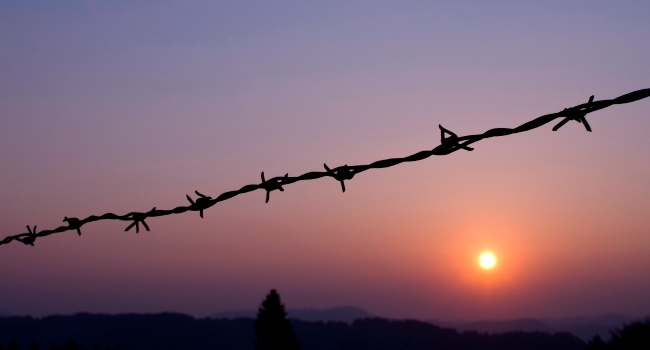 It is hard to give thanks in life's darker moments. Our human tendency is to focus on everything that's going wrong, and in doing so, we become blind to the ways God is quietly at work on our behalf.
Consider Corrie ten Boom, the daughter of a Dutch watchmaker. During World War II, her family hid hundreds of Jewish people in their Netherlands home so they wouldn't end up in Nazi death camps. But when an informant reported the family to the German secret police, they were all arrested and incarcerated.
Corrie and her sister, Betsie, eventually ended up at Ravensbrück, a particularly brutal women's camp where an estimated 50,000+ women perished. Betsie died there, and Corrie—due to a clerical error—was released a week before all women her age were put to death.
Before Betsie died, she told Corrie, "...[we] must tell them what we have learned here. We must tell them that there is no pit so deep that He is not deeper still."*
What did the sisters learn? One lesson that stands out is their effort to put into practice Scripture's admonishment to give thanks in all circumstances (1 Thessalonians 5:18). There was precious little to be thankful for in this dungeon, but they had each other, and they had a Bible that hadn't been discovered and confiscated.
But Corrie couldn't bring herself to give thanks for the fact their barracks, on top of being filthy and overcrowded, was thoroughly infested with fleas, which made life miserable for the women within. As Betsie reminded Corrie about giving thanks in everything, Corrie replied, "Betsie, there's no way even God can make me grateful for a flea."**
At night, the sisters held secret Bible studies in their barracks—secret because if they were found out, it would mean certain death. As the weeks and months went by, remarkably, they were never caught. Eventually they discovered the reason: Because of the fleas, the prison guards—who kept the women under constant surveillance—refused to enter Barracks 28. The other barracks weren't so fortunate.
From a human standpoint, the fleas were a curse. From a divine standpoint, they were a blessing. They made it possible for God to be proclaimed and known to women who stood frighteningly close to death's door.
Ravensbrück was a deep pit, but God was deeper still.
Fast-forward to today in Syria, where an ongoing civil war has utterly devastated the lives of millions of people unfortunate enough to be caught between the battle lines. Leaving behind jobs, homes, possessions—everything—they have fled in desperation to neighboring Lebanon, Turkey, and beyond.
One of the larger refugee populations—some 1.5 million—lives in harsh, deplorable conditions in temporary tent cities set up in Lebanon. They can't go back home, and they have nowhere to go. Malnourishment is rampant, sanitation close to nonexistent. As in the German death camps, it's hard to find things to be thankful for. But as happened in Barracks 28, God is at work in their midst.
Because of the compassion of a handful of Christians in this predominantly Muslim region, some of the Syrian refugees can now say:
"I am thankful for [those] who introduced me to Jesus and who fed me not only with physical food but also with spiritual food."
"I am thankful…that through war and displacement, I got to know Christ."
"I am thankful that we are alive and that my husband and kids were not hurt."***
It almost seems that the darker the circumstances, the simpler and more beautiful the thanks.
Most of us aren't affected by the ravages of war, but we face our own kinds of overwhelming pain and difficulties. Broken relationships, workplace or school pressures, financial distress, rebellious children, debilitating health or injuries or cancer. And we struggle…even to the point of wondering if God has forgotten or abandoned us.
That's when it helps to remember: No matter how deep the pit, God is deeper still.
Though we might not see it, God is at work. And we do have reasons to be thankful, if only we'll look for them. Those reasons may be starkly simple—as simple as "I got to know Christ" or "I'm learning to trust God more." But it's when we focus on the blessings hidden among the curses that we turn the corner from despair to hope—and we are reminded of God's everlasting promise, "I will never desert you, nor will I ever forsake you." And the result is that we can say, with confidence, "The Lord is my helper, I will not be afraid" (Hebrews 13:5-6).
*Corrie ten Boom with John and Elizabeth Sherrill, The Hiding Place (New York: Bantam, 1971), 217.
**Ten Boom, The Hiding Place, 214.
***These statements were supplied by a refugee outreach ministry connected with Hadath Baptist Church in Beirut, Lebanon.