From 5 titles in 1974 to over 150 titles each year and more than 100 million copies sold, Harvest House Publishers has experienced much growth these past 40 years. We have had the privilege of working with many talented and beloved authors, and our readers can be found all over the world.
The rise in numbers, though, could not diminish the blessing that comes from knowing how profoundly even just one book can touch a life. Landon Baron, one of our employees, shares a story of sweet surprises and a Harvest House book found in an unexpected place...

A few years ago I went on a short-term mission trip to the heart of the Venezuelan rain forest. Our team took a seven-hour flight from Houston to Caracas, then a two-hour flight to central Venezuela to a town called Puerto Ayacucho. From there we weighed all of our things and ourselves and then piled into two bush planes. We flew another three hours over the most amazing, luscious, green forest you could ever imagine, as well as massive waterfalls rarely seen by anyone, flocks of beautiful parrots, and crop circles from tribal villages. Eventually we landed in a small village named Cosh.
The only way in or out of the village is by a small bush plane or a several-day boat ride during the rainy season when the river is deep enough. We were there for 21 days.
It was one of the worst and most amazing times of my life. I say that because the bugs and heat were almost unbearable, but experiencing God in another culture was supremely awesome. One day the temperature rose to 121 degrees with 97% humidity, making it feel as though it were 136 degrees. My shoes were melting on the rocks along the river while we patiently waited to catch whatever would bite. We caught piranha, among other things. (Yes, piranha. Quite bony if you ask me, but delicious nonetheless.)
Every morning before our day kicked off, the seven other guys on our team and I would meet with missionary Joe Dawson for a devotional and story-sharing time. He was a truly faithful man, and recently passed away from natural causes. The whole Dawson family has served as missionaries there for close to 60 years now.
One morning, I saw Joe's daughter (I believe her name was Theda) curled up on a chair a few feet away from our group, reading a book...The Power of a Praying Wife by Stormie Omartian!
I remember the scene like it was yesterday. That book was torn, tattered, bent, stained, and almost unrecognizable. My jaw dropped. Before I could collect my thoughts I said, "I work for the company that publishes that book!"
She said, "Really? This is my favorite book! I've read it probably fifty or more times!"
She proceeded to tell me that she's not married, but it didn't matter because the book was preparing her for the day that God does bring her a husband. Someone gave it to her as a gift when they visited, and she's clung to it tightly ever since.
All that to say…you just never know the reach of God's arms!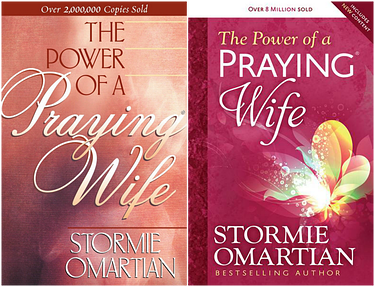 Thank you for being part of our ongoing story!