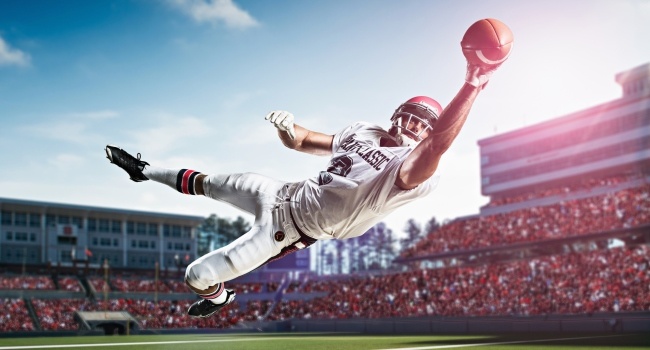 Hail Mary: An offensive play where the quarterback throws the ball as high and far as he can, hoping someone on his team can make a miracle catch and go for a touchdown. A Hail Mary is generally used on the last play of the half or at the end of the game when a team is out of field goal range and has just enough time for one more play.
I read that out of 100,000 high school seniors playing football, only 9,000 become college players, and of those, only 215 become NFL players. That's about two-tenths of a percent. And out of the two-tenths, far as I knew, I was the only type 1 diabetic rookie going into the 2012 football draft. Even with the odds against me, all I wanted was a chance to get on to a team.
I knelt before God in prayer and threw a Hail Mary up to heaven.
In the sixth month the angel Gabriel was sent from God unto a city of Galilee, named Nazareth, to a virgin espoused to a man whose name was Joseph, of the house of David; and the virgin's name was Mary. And the angel came in unto her, and said, Hail, thou that art highly favoured, the Lord is with thee: blessed art thou among women (Luke 1:26-28 ᴋᴊᴠ).
What were the chances of a young virgin of Nazareth giving birth to the Savior of the world? Did Mary ever whisper a prayer to God, giving her will over to Him? I'm not sure, but when God sent the angel Gabriel to her, she said yes, which led to a victory, a delivery of a Savior into a world desperately needing one.
In football, a Hail Mary is thrown in hope that something good will come from a last-ditch effort. It's an act of total surrender, leaving it to God that the football lands in the right player's hands. Everything could go wrong.
But with God, there is no defeat. If we accept the gift of Jesus, we receive salvation and eternal life. A win!
My chances at getting drafted by the NFL in 2012? Slim to none. But on draft day, after all the players were chosen, I got a call that landed me—a kid with diabetes—into the career of my dreams. I ended up as a free agent, signing with the New Orleans Saints.
Have you ever lost hope? Wondered where you were going? What you were going to do? Do you hold a dream in your heart that you desire so much you can taste it? Offer up a solid, deep prayer from your heart.
God sent a Savior into the world, a baby boy born to a virgin. He can turn your dreams—however impossible they may seem—into reality. Sometimes it takes a willing, obedient heart like Mary's for the miracle to happen.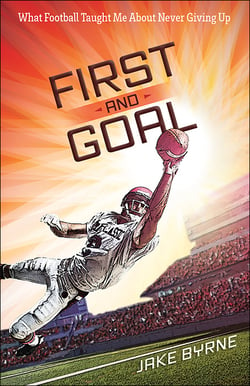 Football fans, Jake Byrne speaks your language while delivering A-to-Z biblical encouragement in First and Goal.