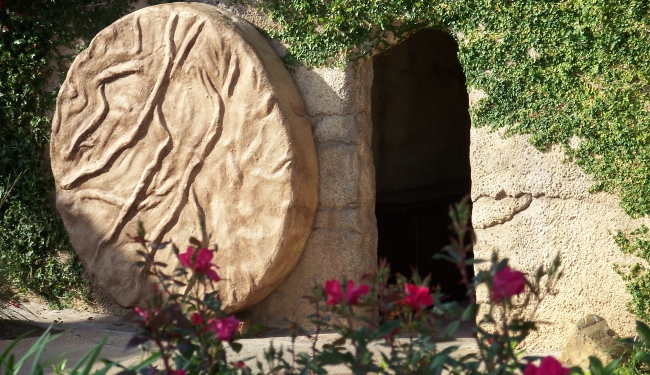 The tomb is empty! We worship and serve a living Savior! As we celebrate that good news this Easter season, it's important to remind ourselves what that empty tomb really means. What are the implications for us that Jesus indeed has risen from the dead? The Bible describes several, including:
1. Because He has conquered sin and death, those who believe in Him will also live.
Jesus said to [Martha], "I am the resurrection and the life. The one who believes in me will live, even though they die; and whoever lives by believing in me will never die. Do you believe this?" (John 11:25-26).
2. He sits at the right hand of the Father, where He intercedes for us.
Who then is the one who condemns? No one. Christ Jesus who died—more than that, who was raised to life—is at the right hand of God and is also interceding for us (Romans 8:34).
3. He's preparing a place for us so that we will be with Him always.
"My Father's house has many rooms; if that were not so, would I have told you that I am going there to prepare a place for you? And if I go and prepare a place for you, I will come back and take you to be with me that you also may be where I am" (John 14:2-3).
4. He will return to establish His righteous reign on the new earth, where His children will reign with Him.
"The kingdom of the world has become the kingdom of our Lord and of his Messiah, and he will reign for ever and ever" (Revelation 11:15).
Here is a trustworthy saying: If we died with him, we will also live with him; if we endure, we will also reign with him (2 Timothy 2:11-12).
* * *
These promises from Scripture are cause for rejoicing, and I encourage you to set aside some time over these next few days to ponder why we celebrate Easter, to picture in your mind what it will be like when these truths are fully realized, and to praise God for them. As you do, may our risen Savior's living presence and the prospect of His soon appearance fill you with overflowing joy.
Praise be to the God and Father of our Lord Jesus Christ! In his great mercy he has given us new birth into a living hope through the resurrection of Jesus Christ from the dead, and into an inheritance that can never perish, spoil or fade (1 Peter 1:3-4).
Happy Easter!