Can you imagine celebrating three Christmases every year? Well, in a sense, that's exactly what the Amish do! Here are some Amish traditions for those three Christmases:
December 25th, Christmas Day, is celebrated with the family, and is often a day of prayer and contemplation…a holy day set aside to reflect on the birth of the Holy Child, Jesus Christ. Often, family members will find a gift or two waiting at the breakfast table—gifts that are generally homemade and useful.
December 26th, called Second Christmas, is a day spent feasting and visiting extended family. Second Christmas is a day of relaxation, followed by a large meal, often quite extravagant, such as what would be served at an Amish wedding.
Old Christmas (also known as Epiphany) falls on January 6th and is celebrated as a holy day to mark the coming of the three wise men to see the Lord Jesus. Families who celebrate Old Christmas will fast in the morning and then come together for a feast later in the day. Business is not conducted on this religious day.
The Amish are known for their good cooking, and no holiday would be complete without an array of delectable treats to choose from. But if you have limited time in your busy schedule, be sure to at least try this chocolate peppermint cake recipe. You—and most especially your guests!—won't be disappointed. It's so festive!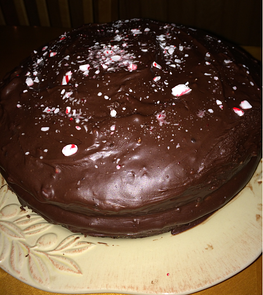 Chocolate Peppermint Candy Cake
⅔ cup butter, room temperature
1⅔ cups granulated sugar
3 eggs
2 cups flour
⅔ cup cocoa powder
1¼ tsp. baking soda
¼ tsp. baking powder
1 tsp. salt
1⅓ cups milk
½ cup crushed peppermint candy canes (or other hard peppermint candy)
Chocolate Peppermint Frosting (recipe below)
Grease and flour two cake pans; set aside for now.
In a large mixing bowl, cream together the butter, sugar, and eggs until well mixed and smooth; then beat on high speed for 3 minutes more.
Mix together the flour, cocoa powder, baking soda, baking powder, and salt; add to creamed mixture alternately with the milk, blending well after each addition. Blend in the crushed candy canes.
Spread batter evenly between the two cake pans and bake in a preheated 350° oven for 35 minutes. Cool for 10 minutes before slipping cakes from pans and allow them to cool completely before frosting them with Chocolate Peppermint Frosting.
Chocolate Peppermint Frosting
½ cup butter
½ cup cocoa powder
3⅔ cups powdered sugar
7 T. milk
1 tsp. vanilla
1 T. crushed candy canes
In a medium saucepan, melt the butter, stirring constantly. Add the cocoa powder and cook for about 1 minute until smooth; remove from heat. Beat in the powdered sugar and milk and continue beating (I do this by hand with a large wooden spoon or rotary egg beater) until mixture is smooth and of spreading consistency; add the vanilla and crushed candy canes and beat again until smooth. Spread between the layers and all around the top and sides of Chocolate Peppermint Candy Cake.
* * *
May the deep joy and meaning of Christmas be yours this holiday season.
Blessings to you and your loved ones!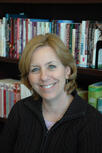 Georgia Varozza, author of the popular Homestyle Amish Kitchen Cookbook (nearly 60,000 copies sold), enjoys teaching people how to prepare and preserve healthy foods, live simply, and get the most from what they have. She works in publishing and lives in a small Oregon community. You can connect with her on her blog at www.georgiaplainandsimple.blogspot.com.
Get more sweet and simple recipes in The Amish Baking Cookbook by Georgia Varozza and Kathleen Kerr.