Are you an early bird or a night owl? I confess that I tend toward the latter—it's too easy to get caught up in a good book, or to take advantage of the silent, undisturbed hours to accomplish some last-minute projects. Now that I'm working in an office from 8 to 5, though, I have to get up early. That doesn't mean my night-owl ways have disappeared…but I'm slowly discovering the blessings of being awake before the brunch hour.
The morning has its own kind of quiet—the anticipatory kind. Instead of extending your mind into its last dregs, you can stretch your thoughts in positive, uplifting ways as your prepare for the day. With just a little effort, you can make the most of those "morning moments"—perhaps with the assistance of a devotional book. Here's a selection from Grace Fox's book of morning devotions, Morning Moments with God:
*
Morning Song
Lord, start my day with a song.
What's the first thing on your mind when you wake—your to-do list? A difficult relationship? An upsetting conversation?
Our waking moments play a significant role in our day's direction. Waking to angry, fearful, or critical thoughts promises a not-so-good day. Waking with praise and thanksgiving guarantees the opposite.
I set my alarm to a local Christian radio station. This fills my waking moments with worship songs. They fix my mind on Christ rather than the clutter clamoring for my attention.
Psalm 59:16 says, "I will sing of your strength, in the morning I will sing of your love; for you are my fortress, my refuge in times of trouble" (NIV).
Meditate on such truths before rolling out of bed to begin the day. Doing so equips us to respond to rather than react to petty annoyances. We'll display courage in the face of storms, and we'll learn to rest quietly in God's love.
The effect of starting each day with praise might astound us. Let's make it a daily discipline and see what changes occur.
Take Action: Memorize Psalm 59:16-17 and recite it each morning as you begin your day.
*
Taking a few moments to ponder the heavenly perspective and appreciate a new beginning can certainly make a difference in your attitude as the day progresses!
Want more morning devotions? Grace Fox's cheery little devotional is perfect for a quick refresher before you dive into a new day...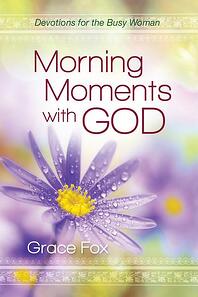 Elizabeth George explores the choice to walk in peace in her post, Choosing the Peace of God When Pressure Mounts.