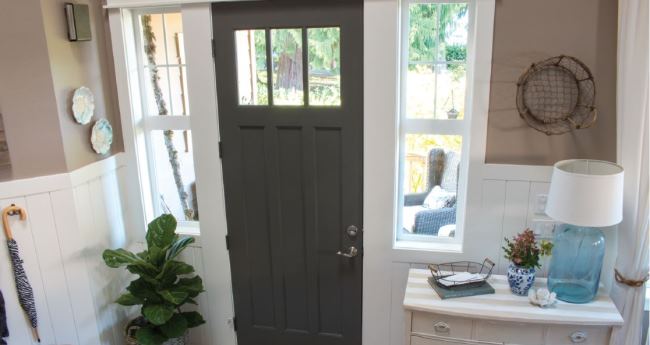 An entryway is the space that extends a warm "welcome home" to your family at the end of a long day away and a sincere "we're glad you're here" to the people invited into your sanctuary. The entry provides a glimpse into the life we live within our own four walls. And if, at times, it reveals a bit too much about us, that's okay too. When we're authentic, we invite our guests to be themselves. That's hospitality at its best.
Whether you have a defined entryway or your front door opens directly into a living room, this is the welcoming space that starts to tell the story of you and your family. It begins with an authentic impression and an invitation to relax so the whole story can unfold in greater detail, room by room.
When you first walk into your home, does a focal point capture your attention? Artwork, mirror, tall plant, or fun piece of furniture? There are great benefits to creating a focal point. Believe me, it's better to have a guest zoom in on one intentional, attractive feature than to become distracted by clutter (ahem) or elements that don't yet reflect your style.
Focal points can be moveable pieces. Try a striking table, cabinet, or bench. If you don't have room for furniture, use a bold mirror to grab attention and reflect light around the room or collections of photos in frames for a personal touch. If your entry opens right into another room, make the focal point in the adjoining space as welcoming as possible.
Go for bigger objects or wall hangings rather than several little items.
Use at least one interesting piece that gets people talking! Look around your house and see what conversation piece you could put in your entry.
A creative focal point makes the entryway feel intentional and defined. What currently catches your eye when you enter your home? If it isn't something you intended to steal the visual show, like a pile of shoes, then decide which piece, paint, plant, etc. could be added.
While the entry is the perfect space to create a happy first peek into the life you live and the sanctuary you love, the goal isn't to present a perfect image. You will have days when the mess overrides your desire for order. You will have weeks when your plans remain intentions and don't unfold into actions. Or, if you are like me, you will have seasons when keeping up with the pets and with the family becomes your only focal point!
It may take a little time and creativity to assess what TLC your entry needs, but it's a space worthy of attention, so enjoy the process! And give yourself grace along the way.
Find inspired ideas for every spot in your home with The Inspired Room!